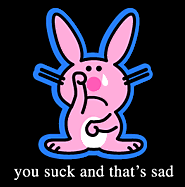 I can't believe Tottenham. Honestly, we're horrible. I don't know if any other team has allowed more goals i the last five minutes of a game than Spurs. I also don't know how to find that stat, so we'll just assume I'm right.
At any rate, Spurs went down 2-0 at the Reebok - but then they fought back to 2-2 thanks to some good effort from the team and *sigh* Darren Bent. Who would've thunk it?
But then, four minutes to time, we lost. 3-2. Off a corner. Story's in the books.
Now, the question comes back to "what to do?". I'll tell you what
not
to do: bring back every former player and their grandmother. Unbelievable. I love Jermaine Defoe and Robbie Keane, I was extremely happy with their play at White Hart Lane and I was horribly sad to see them go. When Chimbonda left - I was excited.
And yet - we've spent far more money than we made trying to bring these guys back. Defoe's been off his game, but he's getting there. That said, it's a slightly different situation - he never wanted to leave and he's coming back to play under his favourite manager. Chimbonda was shite at the Lane, bad for morale, bad for the team. Now - Robbie Keane. His boyhood club was Liverpool. If I were a professional footballer and Spurs offered me the chance to play in North London, I'd be there in a second. Then, if Spurs decided they didn't really want me anymore, and sent me back to the team I came from for half the price they bought me for... well I'd be crushed. And I certainly wouldn't be excited to play. That's what's going to happen if we bring back Robbie Keane, and it's a scary prospect.
Anyways, this is a team that needs to do a few things;
1) Have the mental strength to pull through the last minutes of a match
2) Be smarter than a monkey with a wheel when it comes to transfers
3) FUCKING WIN
Now, in university 'news':
1) Men's basketball played a hell of a game against the Varsity Blues. With a minute and a half left they tied it up. With 17 seconds left they went down by 4 points and the game was lost.
2) Men's hockey had one hell of a weekend - they beat Ryerson and U of T with minimal fuss, though they almost blew it against the Varsity Blues.
3) I've been throwing around ideas for how our football team is going to do next year, and I'm starting to get increasingly excited by our prospects. Maybe we're not going to fall apart next season?
As always, Andrew, Phil and I will be doing Premier League Punditry today at 1:15 p.m. at
Sporting Madness
, be tharr or be squarr...