He led Swedish club Gothenburg (I cant do umlauts, so I'm spelling it the English way) to the Swedish treble in 1982; league, league cup and UEFA Cup. He then went to Portuguese club Benfica and won the league, the cup and finished second in the UEFA Cup. After a stint with Roma (where they won the Coppa Italia) he went back to Benfica, to win another league title and finishing second in the European Cup. He then went back to Italy to lead Sampdoria to a Coppa Italia, then won a crapload with Lazio. In 2002, he got the big job: England manager. He managed a stellar record in getting England
to
major championships, but could never quite pull of big-game wins. He left England in 2006, and took charge of Manchester City in 2007... that ended abruptly (mentioned in
this
article) . He followed that up with a stint with the Mexican national team... who
politely asked him to piss off
after one year at the helm. But, our favourite trooper of a Swedish manager, Sven-Goran Eriksson has landed on his feet. Oh yes, he
has taken over as director of football
at powerhouse club... Nottingham County.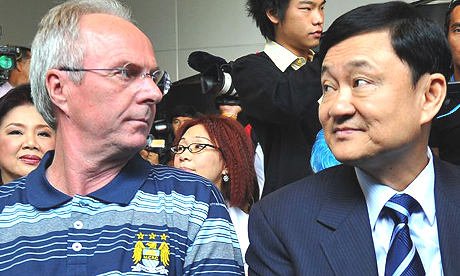 If you're scratching your head trying to work out who Notts County are, don't be discouraged, you're not alone. Eriksson's name is probably the only one on their staff list you're likely to know. But, thanks to a takeover by a Middle Eastern conglomerate (they're taking over everything these days, aren't they? Those Middle Eastern conglomerates!) they can afford a big hitter like Sven. At any rate, Notts County were relegated last season from the First Division (one below the Championship, two below the Premier League) to the Second Division, where they will face stiff competition from Accrington Stanley, Dagenham & Redbridge, Grimsby Town, Port Vale and Rotherham United.
Notts County, whose stadium (Meadow Lane) boasts a mighty capacity of 20,300 (though most of those seats are typically empty), claim to be the oldest team in England, established in 1862... EIGHT years older than Maidenhead United FC! Damn, I thought the oldest team in the country was here. Ah well.
At any rate, Sven's really come a long way from England, hasn't he? At least the supporters of Notts County can count on their team never being picked by ability, but by fame and name. Oh wait... alright maybe Notts' teams will be picked by ability, unless you've heard of, well, any of
these guys
.
Oh. And Sven plans on taking them to the Premiership. I'm really excited to see how this one goes. Good thing Sven took his trusty right hand man
Tord Grip
with him as a "General Adviser", maybe he'll be able to keep a grip on reality for his five-year stint at the lowest point of his career before deciding to find a respectable Championship club to align himself to, or just deciding to call it quits altogether.
You've got a lot to ponder there, Sven.