Last night Spurs played Barcelona as part of the inaugural
Wembley Cup
. The Barcelona team that played was very much a B-squad, there was no Messi, no Henry, no Puyol -- though Gudjonssen and Touré played.
Anyhow, Spurs drew 1-1. Yay? Mmmm, not as such. I was really disappointed by what I saw on the field, and learned a few things about my team and what they need to do to go forward. Most of them stem from really poor managerial decisions by Harry Redknapp (yes, the same guy I was in love with about 6 months ago).
1. The team needs to be built around Tom Huddlestone, not
Wilson Palacios
*.
Tom Huddlestone was fantastic last night. He started off in center back (we have
three injured CBs
... why has Harry not thought about getting another one?) before moving into his more comfortable position of centre midfield in the second half. He was distributing the ball
effortlessly
, almost every ball he distributed was perfectly weighted, and fell right into the run of whoever he was hitting it to anywhere on the field. It was incredible. Wilson Palacios was the height of useless.
Barcelona's goal
** was largely his fault (he is number 12, watch him start running the wrong direction giving Touré a path to goal. Who's the only one whose challenge actually landed? My boy Huddlestone).
Turns out, he's not creative at all. He's a battering ram. But not a skillful battering ram -- his positioning is very poor, he's extremely gullible, and he spent most of last night getting in the way than he did doing useful things.
2. Why sell the Welsh international fullbacks and buy Championship ones to replace them?
Chris Gunter - 20 (born '89)
Gareth Bale - 20 (born '89)
Both are full internationals for Wales, Gunter plays right back, Bale plays left back. Both are incredible on the ball. Both are wonderful crossers, and excellent defenders.
Bale is one of the best left-footed free kick takers I have ever seen
. Both are incredible talents for the future. So Redknapp
sells Gunter to Nottingham Forest
and wants to sell Bale, citing lack of experience as their main problems. His idea for replacing them?
Kyle Naughton and Kyle Walker
, from Sheffield United.
Kyle Naughton - 20 (born '88)
Kyle Walker - 19 (born '90)
Walker has two matches with the England U19s under his belt, Naughton has played twice with the England U21s. They are not nearly as talented as the two Welsh internationals (Walker only just broke into the Sheffield first team last year)... but apparently they're what Spurs need to fill the lack of experience brought by Bale and Gunter. I had the distinct displeasure of watching Naughton last night - he's disturbingly gullible and made the right flank so unsafe that Corluka (who was playing centreback) wound up leaving the middle open most of the time to cover for Naughton.
3. Jermaine Defoe cannot operate as a lone striker
He just can't do it. The service he was getting was terrible (Huddlestone was playing centreback, remember?), Modric was not playing as an attacking midfielder, but a left winger, and no one was going forward, leaving Defoe with no options. It's not so much the fault of Defoe that he can't do it, it's the inability of the midfielders.
4. Our kids want it more than our seniors
The beauty of friendlies is that there are seven subs, and the halftime switches don't count toward that total. So last night we got to see a lot of Spurs' reserves playing the second half... and they were fantastic. While our seniors were largely standing around while they were playing, waiting for something to develop around them, the kids were on their toes and moving.
making things happen. It's how we wound up scoring (oh yeah, it was a reserve [Livermore, below] who scored our goal).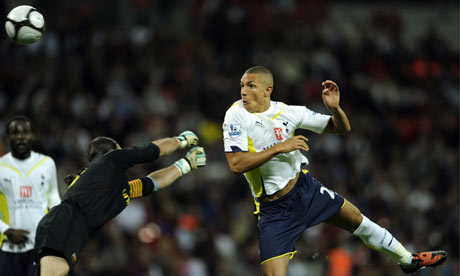 5. Harry needs to get his head out
Like I said, a lot of the problems right now boil down to Redknapp. Why does he want to
buy Viera
? Why did he/does he want to get rid of our Welsh internationals? Why have our only purchases this summer been completely unncessary? We have problems at the striker positions, sure. But before Redknapp came in, we were leaking goals but we were also scoring at will. Bring in Redknapp and
Les Ferdinand as a striker coach
? We stop scoring goals. I don't think it's a problem with the strikers, but their coach. We obviously have holes at centreback, why haven't we bought anyone? We have Huddlestone, but Redknapp wants to sell him. Palacios is useless, but Harry's building the team around him. Oh... and he wants to bring in the greatest has-been of the past decade. What's he doing!?!?!
------
* See the bottom
** I don't know how to mount videos